---
Talking about rum is talking about history, mysticism, poetry. Rum is born with sugar cane, it comes to us from the earth, it is not a casual product. It is the summary of centuries of travel, the synthesis of thousands of stories that have added wisdom to a process that, although it is currently a science, is part of a creative act: the Maestro Ronero is an artist.
---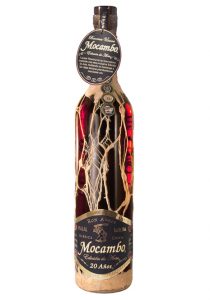 Every artist portrays his environment, and in Córdoba – land, exuberant and noble – he takes sugarcane as raw material, brought by the first Europeans when they discovered America, and which found the ideal elements for its cultivation in our region.
In Córdoba, climate and altitude seem to have conspired, for more than four hundred years, to give the most delicate notes to drinks produced from sugar cane honey. Rum has been, throughout history, a drink of nobles, pirates, and soldiers. It has been medicine, amulet. It has been spread in celebrations and for many it has been the only consolation. It has gone around the world several times, changing its name, its color, hiding its origin. It is a legend that, finally liquid, takes the shape and name of the container that contains it: Ron Mocambo 20 Art Edition is total art.
---
Taste and tradition
From a magical corner of the world, in the city of Córdoba, the company "Licores Veracruz" has 70 years of satisfying the most demanding palates with creativity and innovation that have become our hallmark. Each of our products is made as if it were the only one, faithful to our commitment to make authentic beverages with the strictest quality standards, a mission that has placed us at the forefront of the industry.
In long corridors with the smell of wood, from old select European white oak barrels, sheltered and aged in the shade, a rum made with selected raw materials emerges, the product of our land and the effort, work and dedication of many careful people headed by Mrs. Celia Barragán Espinoza and Mr. José Villanueva Arteaga.
---
Cordovan identity that transcends borders.
When the traditions of a region cross the borders, one can speak of a conquest, an achievement and a challenge: at "Licores Veracruz" we have managed to reach other markets, exporting to more than 28 countries, including Japan, the United States, England, Russia, Ukraine, Germany, Switzerland, Belgium, Denmark, New Zealand and Bolivia, placing our rum in the Premium catalogues, for going one step beyond the known qualities, which exceed consumer expectations and combine exceptional qualities in terms of to taste and image of the product.
---
For years, the Grupo Enológico Mexicano has classified the rums of this company as drinks of outstanding quality, the result of a careful process of elaboration and aging until its ideal maturity in European white oak barrels that give it the character of Premium rum.
We must remember that in addition to rums, this company's product portfolio exceeds 200 presentations that have always included a wide range of liqueurs, fortified wines, traditional spirits, aniseed, habanero, vermouth, vodka, tequila and mezcal.